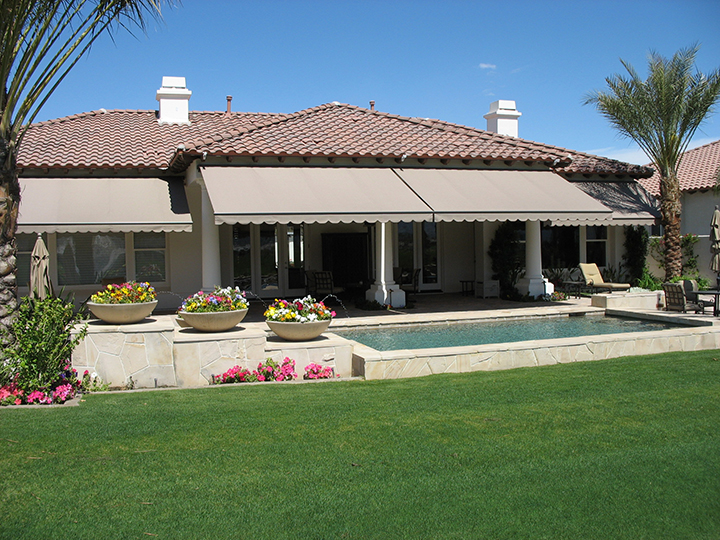 Retractable Awnings
Ideal Shading Solution for Decks & Patios.
Retractable Awnings
A retractable awning is the ideal shading solution for decks and patios. They can be conveniently mounted on the wall, soffit or roof for additional headroom. With a simple hand crank or the convenience of an optional motor, your awning will instantly protect you and your family from the elements. On cloudy days or when not in use, your awning is completely self-storing. It eliminates the need for seasonal removal and storage. These engineered awnings have a durable arm system, using the strongest materials and the most sophisticated arm design.
Sun Protection
A SUNAIR® awning provides you and your family with 99% UV protection, while also protecting furniture and carpeting from fading. Now you can enjoy the outdoors without worry.
Energy Savings
Awnings can reduce sunlight through your windows by up to 94%, reduce heat gain as much as 77% & reduce cooling energy by as much as 17% in moderate climates, thus reducing your utility bills.
Add Value to Your Home
Imagine staying cool on your deck and protecting your family from the sun's harmful rays. Finally you can enjoy cookouts and entertaining the way it is meant to be.
Sizes / Options / Warranty
This product is available in custom sizes up to 40'w x 14'p.

It also has 9 different powder coated framing options.

It is available in a motorized or mechanical crank and can be outfitted to work with wind sensors or remote controlled.

We have numerous fabric colors to help match you homes décor.

Backed by a 15yr limited frame warranty, 10yr fabric warranty and 5yr motor warranty.